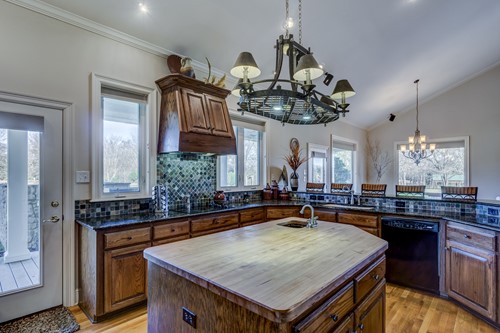 Installing a kitchen center island ranks among the most significant changes homeowners make to the house's most used space. The benefits of increased surface area and the idea you can design a kitchen center island to include a breakfast counter make this improvement attractive. But the cost can of an installation can test the limits of sometimes tight family budgets. That's why handy homeowners turn to innovative DIY possibilities that deliver all the benefits of a kitchen center island at a fraction of the cost.
How To Plan Your DIY Kitchen Center Island
For an island to function seamlessly in any kitchen, it must meet certain standards. These typically include providing adequate surface area, fitting into the overall decor proportionally and ample pathways on all sides. One of the common missteps homeowners make is to select a large kitchen center island that makes the room feel cramped and impedes movement.
In terms of space, it's generally a good idea to have at least 42 inches between the kitchen center island and cabinets and at least 60 inches on the outside. Before purchasing a prefabricated product to install yourself or repurposing an item, measure the kitchen. Put down tape or a paper cutout that simulates the island's dimensions. Take a moment to walk around it and get a feel for how the room will function after installation.
Consider Repurposed Furniture Options
Reinventing the use of an old piece of furniture tends to minimize the cost of a kitchen center island. With the approximate dimensions in hand, everyday people can rummage through the garage, basement, or an old barn for items that have little or no current use. Consider the following reasons why old tables and dressers make excellent kitchen center islands.
Repurposed Tables: One of the hot-trending DIY innovations is reworking old farm tables. Often made from quality hardwoods, tables infuse a rustic or country-classic ambiance into the room. If the wooden table doesn't already have them, consider adding drawers and a lower shelf for storage. If you don't have similarly-aged wood, the additions can be painted to match the kitchen's decor.
Repurposed Dressers: An old dresser often mirrors many of the facets of the kitchen center island. Antiques are generally crafted with sturdy lumber, include multiple drawers and are designed at appropriate heights to match your countertops. Savvy DIYers can strip them down to the natural wood and then make decisions about color. You can stain or repaint the dresser to match cabinets.
When undertaking a DIY repurposing project, you enjoy the option of using the existing table or dresser top as is. If you don't feel it delivers the space needs or decor consistency you desire, it's usually possible to remove, replace or fasten another one on top.
Tweak Your DIY Kitchen Center Island Project
When utilizing under-used furniture for an island, DIYers may want to consider making strategic alterations. For example, creating viable seating may require expanding the surface area. This may entail installing a wider countertop that hangs over one side.
Standard seating heights for bar stools usually run 36 or 42 inches. Given that 42 inches exceeds comfortable food preparation height, sticking with 36-inch furniture simplifies the process. It's also essential to allot about 15 inches for friends and family members to comfortably place plates, utensils and cups.
These rank among the popular ways that hard-working people can cost-effectively install a kitchen center island. With a little strategic planning and determination you can enhance the peaceful enjoyment of your living experience.