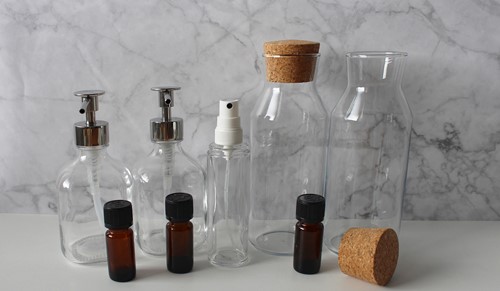 Homemade cleaning solutions aren't just effective. They're also free of irritating chemicals, gentle on delicate surfaces, and easy on the environment. Here are a few recipes for making your own cleaning solutions.

Natural Wood Polish
This is a classic mix:
In a small cup, mix one part olive oil to one part lemon juice.
Now, use a soft cloth to rub your homemade wood polish into your wood pieces.
Buff the wood to its rich, natural glow with a clean cloth.
What a gentle, protective cleaner! Plus, it smells lemony fresh.
Drain Cleaner and Declogger
A baking soda and vinegar mix can clear out clogs at the first sign of slow draining, before the job gets impossibly hairy. Give these steps a whirl:
Boil a pot of water.
Flush the drain with it. (Handle boiling water with care!)
Then pour a cup of baking soda and vinegar, in roughly equal parts, down the drain. You'll see the drain bubble up a bit.
Close your drain.
Wait a few minutes, while boiling a new pot of water. Then carefully pour the boiling water down the drain.
Done! If your clog is in the advanced stages, you might want to bring a plunger into the equation. You'll get there, with eco-friendly flair.
Safe Insect Repellent for Indoor Use
Let chemicals be the last resort. Keep the air fresh and fragrant by giving these ideas a go.
For ants on the counter: Try cream of tartar. Use a little of this white powder plus a little water to make a thin paste. Sponge it over kitchen surfaces. (It will be invisible when dry.) Wiping with vinegar can also work well.
For moths, spiders, silverfish and others in the corners, nooks, and crannies: Cedar chips or cedar sachets in closets and cupboards deter those rascals while making your closets smell wonderful.
To redirect them all, wherever they might be: Use cinnamon sticks! Or put a couple of drops of essential cinnamon oil in a spray bottle filled with water. A spritz here and there repels bugs from seams that the little critters regard as revolving doorways.
Paste For Making Shiny Things Sparkle
Here's how it's done:
Sponge unpainted cabinet knobs and faucets, and other hardware, with lemon juice.
Leave on for a time, then gently rub salt over the surface.
Rinse, then wipe dry.
To polish brass or other metals that have a protective varnish, use a soft, moistened cloth. Avoid using household chemicals.
These are just a few ways to clean your house and keep it looking new without using chemicals. They're also great ways to get ready for your next open house without having to air out the rooms before your guests arrive.
Looking for more ways to prep your home for an open house or get it ready for the market? Feel free to reach out!